What is a Fee Levy Group?
A fee levy group is defined as  following:
"[…] student organizations and initiatives at Concordia University that are student-elected through the referendum process. Fee levy groups are made up of Concordia undergraduate (and sometimes graduate students) as well as community members from wider Montreal communities. Fee levy groups receive all or part of their operating budgets from a per-credit Concordia student fee levy. Fee levy groups are autonomous from the administrations of Concordia University, the CSU, the GSA, and all academic bodies and associations." – from http://concordiacommunity.org/about/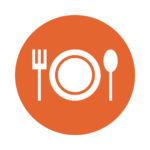 Le Frigo Vert is an anti-capitalist, anti-colonial, anti-oppression , food, alternative health, and community space located near Concordia University's downtown Montreal campus.  
Le Frigo Vert is supported by Concordia students via a small refundable fee levy. All Concordia students are members. Memberships are available on a sliding scale of $0-100.
The Hive Cafe Solidarity Co-op envisions accessible food systems that are socially, economically, as well as environmentally regenerative that are operated locally and democratically.
Contact Information
Telephone           (514) 664-4483
Website               www.hivecafe.ca
Email                  [email protected]
Address             SGW Campus: 1455 De Maisonneuve Blvd. W. H-239
        Loyola Campus:  7141 Sherbrooke Street W. SC-200
The People's Potato is a vegan soup kitchen at Concordia University – a student initiated project that was founded in 1999 in order to address student poverty and the lack of affordable food options on campus. We offer by donation meals every weekday during the fall and winter semesters, excluding holidays*.
With the help of our dedicated volunteers, we serve more than 500 meals daily to students and community members. We are committed to education around food politics and anti-oppression, and to the broader goals of social and environmental justice
Sustainability Related Groups
The Sustainability Action Fund (SAF) is a student run fee levy group at Concordia University. The organization collects approximately $205,000 of revenues a year from undergraduate (25-cent-per-credit) and graduate ($1.25 per term) fee levies.
Sustainable Concordia uses its position at Concordia to advocate in solidarity with local and global movements by being a resource, service, educational and direct action hub for students and the wider Concordia community looking to organize in an intersectional & sustainable way.
Contact Information
Telephone          (514) 848-2424 ext. 5829
Website              www.sustainableconcordia.ca
Address                2090 Mackay, Montreal QC